"Library is where people, One frequently finds, Lower their voices And raise their minds"
~ Richard Armour, An American Poet
Library Newsletter
Objective Of Library
To acquire, update, maintain and provide a qualitative and quantitative collection of books, periodicals and other instructional material of electronic resources to support the academic programme and educational objectives of the college.
To include in collection various fields of knowledge as well as of career and character building.
To provide quality services to faculty and students for achieving their curricular as well as co-curricular goals, with the help of technology, but not as a substitute for personal service.
To inculcate reading habit among students and to encourage collaborative efforts among library staff and students to maximum utilization of library resources
Details about the I.J Patel Library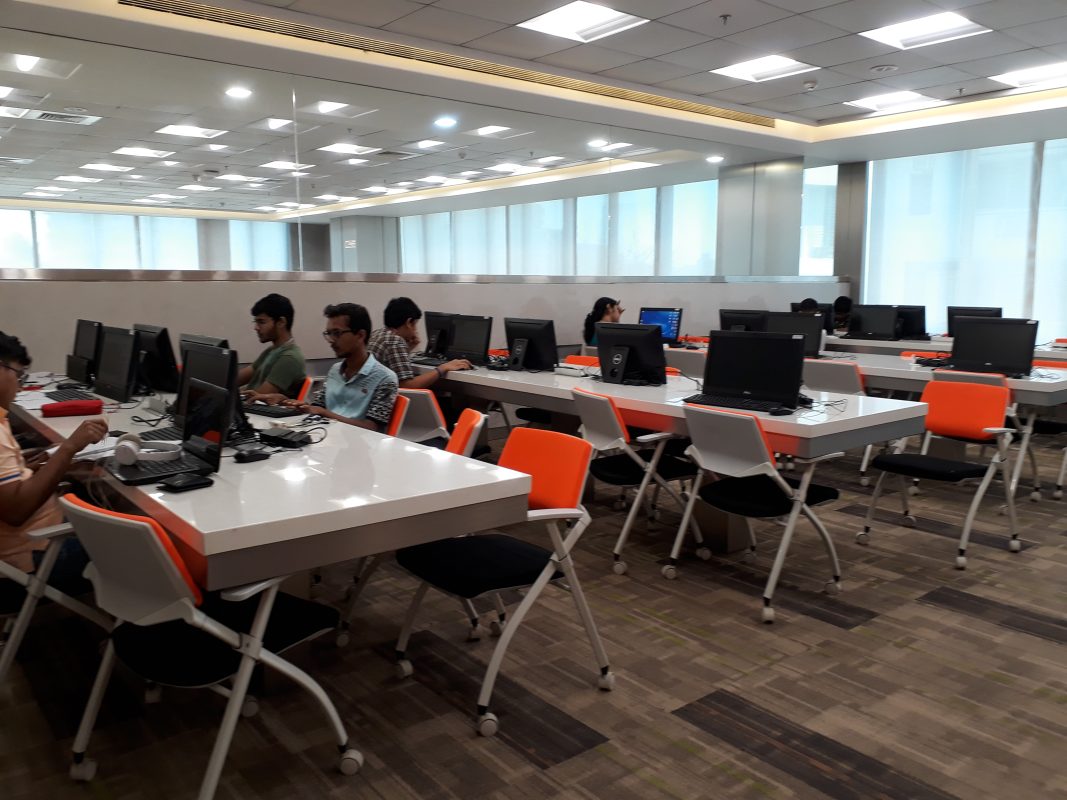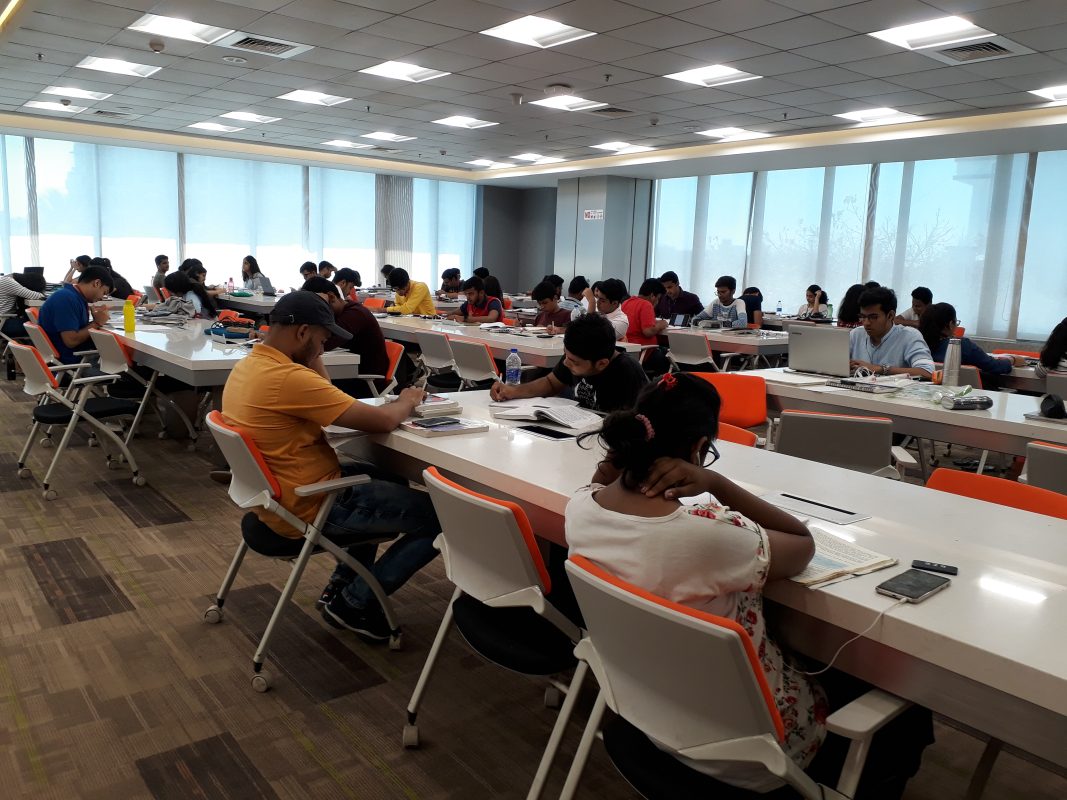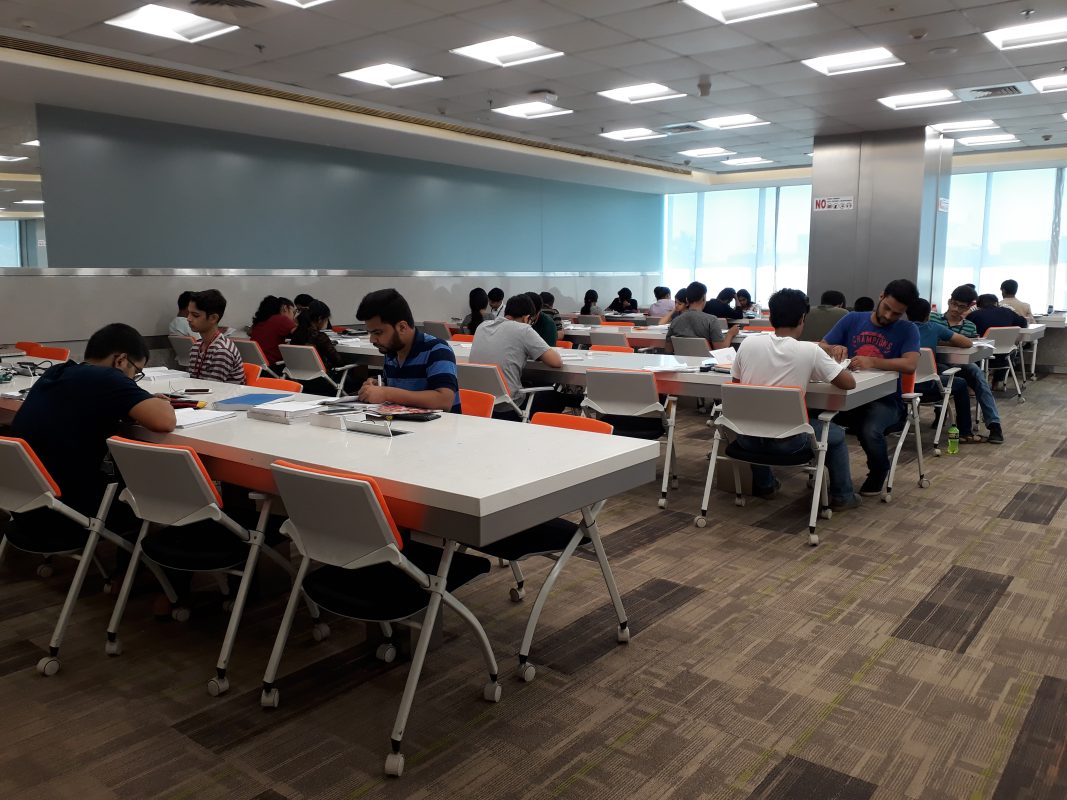 Year of establishment – 1964
Working Hours: Monday to Saturday – 7.00 a.m. to 7.00 p.m.
Total area 7400 sq. ft. on two floors.The reading room capacity for 300 students.Every table with the facility to plug-in the laptop.
Centrally air conditioned library with Wi-Fi connectivity and UGC Network Resource Center.
The UGC Network Resource Center with five PC terminals is available free of change for accessing databases, OPAC (computerized catalogue) and Internet, strictly as per the rules. The network printer provides the facility to print the pages.
The College Library Committee consists of the staff members from Degree College, Junior College, Unaided Courses, Librarian and Assistant Librarian.
Suggestion Box: Students can drop their recommendations for books and any other suggestions in this box kept near book showcases. The suggestion box opens on every Saturday at 2-00 p.m.
Collection
E-Books 3305000+
Books (Gross) 65696
E-Journals 84452
Books (Net) 38866
E-Magazines 2673
Journals (National) 67
Video Lectures 317
Journals (International) 18
E-Reports 2504
Magazines 29
E-Newspapers 1937
CDs 307
SVKM databases 31
Maps 4
NList Databases 22
Newspapers 20
Library Services
Students can approach the counter for books issue, periodicals and newspapers, syllabus, question papers, database passwords, ex-students library reading room facility, etc. Please approach librarian for Reference services, database details or getting information related to any topic of interest or any other things related to library.
Rules for Students using Library
Talking loudly, discussing, loitering, eating, smoking, spitting, talking on mobile, shifting chairs, reserving chairs, scratching on furniture is strictly prohibited.
All persons using the Library are subject to the discipline of the college.
All those entering the library are requested to observe silence, behave in civilised manner and maintain discipline.
Please take permission of the counter staff for entry inside the counter or UGC Network Resource Center.
For entry inside the counter the students are required to keep all their belongings aside and allowed to carry only their identity card.
Please handle the books carefully and do not mutilate them in any way while using.
The books issued for home reading must be returned on the due date mentioned on date slip behind the book. If the same book is required again for the next week, student must renew it on the due date or is subjected to pay fine of Rs. 1/- per day per book or as per the then notice.
In case of loss of a library book the Librarian should be contacted immediately. The lost book is supposed to be replaced immediately. The cost of the book will be recovered only if the book is not available in the market.
Other material like syllabus copies, question papers, periodicals, CDs, books for current reading, etc. issued from the counter are expected to be returned on the same day, failing which a fine of Rs. 5/- per day will be levied.
The reference books marked with "R" are for using within the library and not allowed to be taken out of the library for any purpose.
All the students are required to strictly adhered to the above rules and cooperate with the library staff for smooth functioning of the library. The Librarian has authority to maintain order in the library and take action against any user who knowingly or persistently breaks any library regulation.
Procedure for using Computerised Catalogue through KOHA Software
At SVKM's N M College library we are using KOHA for library automation. Users can access library books through OPAC (Online Public Access Catalogue) in KOHA with the help of URL: http://opacnmcce.ourlib.in/
This URL is accessible from any computer or mobile
In search option enter keyword and select to browse the documents by Author, Title, Subject, or class number options in the box next to "in".
The Union Catalogue of Shri Vile Parle Kelavani Mandal Libraries is available at URL https://library-svkm-ac-in.svkm.mapmyaccess.com/
For detail description of books you can click on Title.
Click on "Back arrow" to go back to the list.
Please note down full title and author(s), Class number and Accession number of the book you have selected and show it at the counter to ask for that book.
"Back to Search" will take you back to search window.
With OPAC you can search books
By Author – It is the search for books if the Author of the book is known. Search begins with the surname of the author.
By Title – It is the search for books if the Title of the book is known.
Classified – This is the search for books by Classification number
ISBN – If you know ISBN of the books
Or just type keyword in search option.
Note: After completing use of OPAC on computer near the library counter please do not sh

Library Services
The students can approach the counter for any purpose like Current Reading, Home Issue, Reference or getting information related to any topic of interest.
I – GENERAL SERVICES:
Computerised catalogue (OPAC) where one can locate for books according to author, title, publisher, accession number and classification number.
The following material is made available from the library counter.
Books for current reading
Books for home issue for a week.
Question papers
Syllabus
Reference sources such as dictionaries, encyclopaedias, yearbooks
Competitive Exams related books
Books on careers
Newspaper clippings on various topics useful for student assignments and projects
Reading lists of interested books
Bibliographies on various topics
CDs.
Book Reviews
Home lending of books- textbooks and other books.
Periodicals – Journals and magazines are displayed in the reading room. Students can read these and sign on the page attached to the periodical. The periodicals are available for reading within the library. However, if any student wants any periodical for home issue, they should contact the person at the counter.
Daily newspapers are kept at the counter and available for reading to everybody.
Electronic Journal Databases (for details please contact Librarian)
Reference Service- Students can ask any reference queries to get help to search books on any topic. This service is especially for projects and assignments.
Book-Bank- Textbooks are provided for use during one academic year. The books are required to be returned as soon as the exams get over. The application forms are made available from the library counter only during the prescribed dates on the notice put up at the beginning of every year.
Reading Room for self-study facility after library hours.
Display of newly arrived books near the library entrance.
Internet access through UGC Network Resource Center and Wi-Fi. Anybody using these facilities is required to register themselves.
Services to ex-students and outside visitors.
II – EXTENSION ACTIVITIES:
Inter library loan & referral service for other libraries within Mumbai.
CD-ROMs viewing on multimedia computers- any student can view the CDs available in library.
Scanning and printing
Library newsletter along with articles written by students.
Friends of Library students participating in library activities.
Exhibition of library books on various topics.
Book of the day- Book review with book display in showcase.
Other Resources